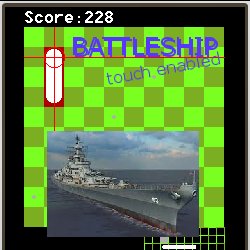 The game
Battleship
is a guessing game played by two. It was played as a pencil and paper game even before World War I. The aim of the game is to sink your opponent ships before your ships are sunk. The one who sinks all opponents ships wins the game.
At first you will need to place your ships on the board or accept the initial random order. Once ships are in place, each player will attack on any available coordinate trying to locate opponent ships. Upon successful hit the player have another turn and once missed, the turn changes.
Battleship is a freeware, and it requires a free registration after playing the game four times (free registration at no cost from wapfrog.com). You can choose to register the game from wapfrog.com website or directly from your mobile phone which might require some mobile communication fees according to your mobile internet package.
Visit us on
wapfrog.com
for the online leader board and for more mobile games.